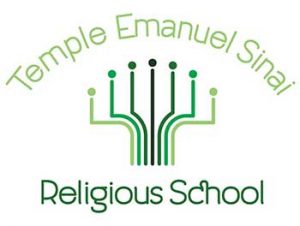 B'ruchim Habaim (Welcome)!
Learners are prepared and excited to construct their own life journey rooted in Judaism and in their relationship with our Jewish community.
Our Temple Emanuel Sinai Religious School is proud to provide an education that instills Jewish pride, a sense of history and a genuine and meaningful understanding of Judaism. Our students grow into informed thinking Jewish adults, who will shape our communities and our world for years to come. We are truly committed to providing your child with a Religious School experience that will be enjoyable, inspiring, and provide warm memories for a lifetime.
Our Religious School engages a dedicated group of teachers, many of whom are also members of our Temple. These wonderful teachers continually work to provide enriching opportunities for Jewish learning and religious exploration. Jewish values are integrated into the curriculum and studied at every age through special projects, music and Jewish holiday observances.
Download our Registration Packet & Schedule
Curriculum Overview
Here's a taste of what your family will find at our Religious School:
We provide learning opportunities for Children and families through authentic Jewish experiences for children and families
A central goal of our program is relationship and community building between children and families is a central goal of our program.
Teachers engage children in Jewish life and learning.
Teachers prepare our children to understand and live by the Jewish values of worship, tzedakah and social justice.
Each student is engaged in project based learning, team work and critical thinking.
Students are active participants in their learning; they are not only asked questions, but are encouraged to ask their own questions and find their own answers.
Every class participates in services so that we can teach our students to become functional and comfortable in the Temple.
Students are exposed to innovative Hebrew instruction, which include "Hebrew through Movement" and "Hebrew in Harmony"
Teenagers serve as Madrichim (student teachers), providing our students good examples of Jewish role models
Most of all, we have FUN
Hebrew Program
Our Hebrew curriculum seeks to offer our students an exciting introduction to the Hebrew language and to actively engage the students in their Hebrew studies.
The goals of the Hebrew program are:
To provide students with a solid foundation in reading/decoding the Hebrew language.
To have students excited about and engaged in their Hebrew studies.
For students to see Hebrew as a living language.
For students to feel comfortable and able to participate in Jewish prayer.
Hebrew letter shapes and names are first introduced in kindergarten; in first grade students begin writing the letters; students begin to read phonetically in the second grade; and by third grade, the students have solidified rudimentary reading skills.  The program for students in the fourth through sixth grades reinforces and builds upon reading skills, introduces basic, conversational Hebrew, and develops synagogue fluency, enabling students to read and comprehend the basic prayers of our worship services with ease.  In the sixth grade, students also begin a B'nai Mitzvah prayer track through which they will work on fluency of their prayer goals for Bar/Bat Mitzvah.
Religious School Faculty
Talia Mugg – Director: tmugg@emanuelsinai.org
Sarah Noble-Young – Grades K-1
Marissa Levitt – Grade 2
Lilian Cohen – Grade 3
Emma Noce – Grades 4-5
Keren Azoulay – Grades 6-7
Ellen Levitt – Learning Center & Arts Specialist
Heather Gelardi – Family Educator
Rabbi Valerie Cohen – Clergy
Gitit Shoval – Music Director and Cantorial Soloist